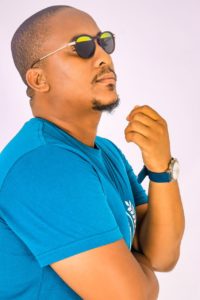 South African heart-throb uses industry
experience to develop new sound
DURBAN, SOUTH AFRICA – In South African slang, The Dushman is a term applied to a lady's man. The term has been applied to music mogul Sabelo Kheswa for more years than he can count. It was given to him by his music mentor, Mr. Chaklas, and it's a name that is now known throughout his home country in ways that are synonymous with excellence and having a good time.
His new EP, "Love Potion," is the perfect example of the excellence and good vibes he brings through his music. Dropped on Feb. 14, this six-song project featuring modern day love songs with a nod to 90s R&B is the kind of project that is gaining attention from fans all over the world.
"I've always had a love for music and this project is my way of expressing that love," The Dushman said. "I wanted to do something separate from trap music and I love that 90s R&B, and I wanted to do something to express my love to my lady. The sound that I have is completely different than what's out in the market right now. It's a sound that a lot of people haven't heard in a long time. I think they've been craving this sound and haven't realized it. It's
a sound that's current, but fused with 90s R&B."
The Dushman started his music career in 2007. Under the mentorship of South African artist Mr. Chaklas, The Dushman began to quickly flourish as an artist. He also studied business and sound engineering, and would eventually use those skills to create his own independent music label, TDM Music Group. He currently has four other artists under his label, and the five of them combined are planning on dropping an EP together in June as a group called The Dushman Squad. Two of those artists are featured on The Dushman's EP "Love Potion," Prime Zulu – who was a contestant on "The Voice – South Africa" – and Senzo Armour.
Those two artists are specifically featured on the standout single from The Dushman's EP. It's a song called "Candy," and the remix version is find regular play on radio stations and throughout the very active club scene throughout the country.
"It's a song about a girl called Candy who mesmerizes me," The Dushman said. "I can't get enough of her. I can't get her out of my mind. The original version is more laid back, but the remix is more upbeat. The dance scene is dominating in South Africa, as well as hip-hop. It's tough to get music out there to be people, but people are starting to adapt to the scene and are reacting to my music, especially 'Candy.'"
At the end of the day, The Dushman said he hopes his music is such that it connects with anyone who listens while also spreading a message of love.
"I feel like a lot of songs that are out right now don't talk much about love," he said. "It's more about club scenes. My music is mainly about love and making sense of our relationships by using music. I'm also a songwriter and a businessman who has an independent record label. I hope people will see how far I've come and that I have what it takes to make it in this business."
To listen to The Dushman's music, or to follow him on social media, please visit:
tdmmusicgroup.com
https://www.facebook.com/THEDUSHMAN/
https://twitter.com/THEDUSHMAN
https://www.instagram.com/the_dushman/
https://soundcloud.com/thedushman/